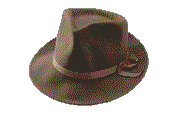 All About YIP


Best of YIP Magazine


YIP Magazine Archives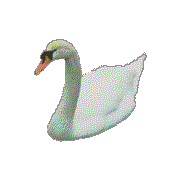 YIP WaReZ!!1


Moray Eel Approved Links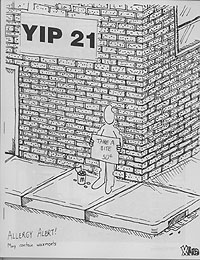 Ah, the infamous blackjack issue, which came very close to being a solo effort by Milky Puppy. Xenomorph drew the cover model fully formed and holding a blank sign, to later be filled in with either "Hi" or "Nice weather". Luckily, just before the issue went to press, inspiration struck and Milky used liquid paper to remove bites from the man's flesh and change the sign to "Take a Bite, 50 cents," offering a very silly commentary on the plight of urban man.

Pi (Editorial) by Milky Puppy


Shocking Signs by Milky Puppy


A Rising Eagle's Clasp Through the Thorns of Heaven by Milky Puppy


How to Get a Career by Milky Puppy


Wrath of the Thesaurus by Muffin


Poetry Page


Waxed Paper vs. You in the Quest for Women by Milky Puppy


Puzzler's Page


Restaurant Owner by Plastic Brain Carrie
---
If you like anything here, or if you don't, please e-mail milky@yip.org. Fun for ages 3 to 103! Also for ages 105-109, 114, 121, 126-128.5, 314, and 1,912.