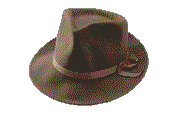 All About YIP


Best of YIP Magazine


YIP Magazine Archives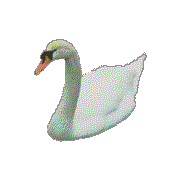 YIP WaReZ!!1


Moray Eel Approved Links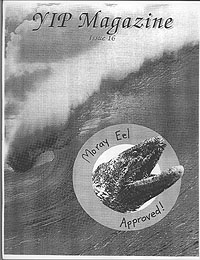 Issue sixteen was a fine issue, unremarkable except for the fact that it marked the debut appearance of the Moray Eel Approved logo (on the cover). The Moray Eel Logo has become a secondary logo for YIP, for more than any other sea creature the incredibly ugly and constantly surprised-looking Moray Eel symbolizes all that YIP stands for. The "I'm Full" feature here appears for the first time in its original colour!

A Crime We Did Not Commit (Editorial) by Milky Puppy


Joseph by Persephone


The Fine Art of Demanding Proof by Milky Puppy and Plastic Brain Carrier


I'm Full


Poetry Page


The Nice Dad by Milky Puppy


Wedded Assassin by Milky Puppy


The Tales of Blood by Albino Finch and Milky Puppy
---
If you like anything here, or if you don't, please e-mail milky@yip.org. Do NOT use this link while eating pita bread.