The Retrosic - God of Hell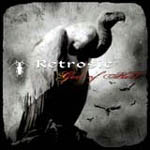 This brings me back, back to my teenage years, oh so long ago when I was an angry youth (now I'm an angry adult male) with nothing really specific to be angry at yet, yet knowing that the world that was slowly revealing itself to me was one that would fuel my growing anger.
Retrosic reinvents those old Wumpscut era releases in a new form, with all the war imagery and teenage boy angst, directionless anger that is most likely pretty invalid, and yet at the same time, in some aspects legitimate. Retrosic's ideology leans towards the Industrial right wing of thinking, similar in nature and sound to the music on NoiTekk and Black Rain, with a strong dominance of militaristic EBM beats and dramatic sythns. Still, the overall sound is pure Industrial anger, and so I can accept it for what it is.
Our lives are unfulfilling and insignificant. Our world is heading towards disaster. The music of Retrosic is at both anger against this, and I suspect for some just an outlet for some to vent and get it all out, so that they will be ready to get in line and work with the program. As with all art forms, the result can vary greatly, depending on who is listening.
The Retrosic's main ideology on this album is apparently, a "destroy the world to save it" maxim. My own take on this is that if you have two paths to follow and you must reject both of them, pick the worst of all solutions in the hope that from this, a new option (one of some worth) will reveal itself. This is a very Industrial ideology, and is perhaps one of the main concepts that originally drew me to this music, oh so many years ago.
An excellent release that makes me realize why it is that I like EBM music, and definitely the best EBM album I have heard in a long long time.
Squid @ July 2004