Informatik - Re:vision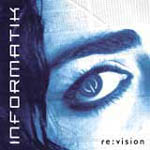 Informatik have taken some tracks from previous albums and had them remixed, added a few new tracks and have now released it on their latest CD, Re:vision (they've also included a live video of one of their tracks that I watched only about 1/4th of, so can't really comment too much on (except to say that maybe being at an Informatik show may be kind of cool, but watching one of my computer monitor is not)). Their American approach to EBM rates higher than their European counterparts in my current NA-centric opinion. Add to that a slightly inspiring, although perhaps uninspired politically left message and the result is something that is pleasant to listen to. Its got some nice beats to get you moving, to get you up off the couch and perhaps move you into the centre of the living room (for a little while).
The Funker Vogt remix machine 2004 is used on one of the tracks and as usual, does a adequate and totally mechnical job. There is an Assemblage 23 mix, but it is the Iris remix of Over that stands out as being the best on the album.
Yes, I'm feeling a lot better about the world now, I thinking that maybe indeed we can listen to those lyrics "A single drop of water becomes a mighty fall/ people of the earth the world belongs to us" and one day, I'm sure we're going to take it all back and have the last laugh after all. Hell, I might go do something about it today (after I'm finished work) or maybe tomorrow (before work) may be better, because my feet are pretty sore at the moment and I should probably get home and do some laundry.
Squid @ Sept 2004