In Slaughter Natives - Resurrection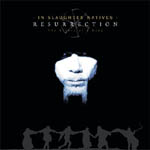 In Slaughter Natives have returned, have resurrected (to use the term I almost wish I hadn't used) with a powerful new release, Resurrection The Return of a King. The tracks upon this disc are deserving of the title; epic in nature they seek to overpower and dominate. In Slaughter Natives, a staple from the early days of the Cold Meat Industry label reassert themselves into our consciousness. I have nothing but praise for this, and even after some hard time trying to find fault, I came up empty. It is a brilliant mixture of classic orchestration, chanting, powerful drums and the brooding vocals of Jouni Havukainen; In Slaughter Native's solo member. This release will impress those who have no experience with the sounds of either In Slaughter Natives or the label Cold Meat Industry, and confirm ISN's reputation for those who do.
An amazing release from an amazing band.
Squid @ January 2005