Coph Nia - The Dark Illuminati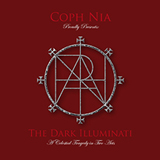 Coph Nia has returned with "The Dark Illuminati", which has an interesting concept: This very dramatic spoken word / bombastic militaristic release matches the original tracks against covers.
The album contains two parts, the first being a lengthly intro of dark ambient, which would sound good on any other album but lacks the power and intensity of the rest of this CD. Perhaps its that I'm too eager to hear the rest of the album, that I generally skip over the first track.
The second 'half' contains 7 tracks, 3 of which are covers, and are placed between each of the original tracks. Coph Nia's Aldenon's heavy and extreme voice takes an entirely new look at Aurthur Brown's Fire, the Rolling Stone's Sympathy for the Devil and Front 242's Religion, slowing all the tracks down and renewing the profound sense of the pieces.
The original songs include two versions of previously released tracks The New Oath (The Oath appeared on Flowers made of Snow Compilation) and Hymn to Lucifer (Hymn to Lucifer (Premix) appeared on All My Dead Friends Compilation), and two new tracks (Credo V and Drinking To The Angel Of The East), and continue the oppressive flow of the work. A brilliant album hands down, but it does leave one aching to hear a full length CD of original material.
Squid @ July 20th, 2007