combichrist - everyone hates you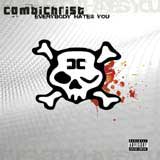 Take a base of Feindflug and remove the militarism from the beats, add 2 parts dance party, 1 part rave, throw in some lyrics hastily created, some samples, add 100% marketable angst and serve quickly.
I'm not really sure if Combichrist is a joke or not. When I think of it as one, I find myself enjoying the album. When I begin to question this and think that perhaps it is serious, I hate it. There is a lot of ultra-cheezy [sic] murder and anger on the CD, and I would describe it as "evil techno": evil for a chemically happy rave crowd—'mind blowing evil' without credibility. But please, don't subject these rave kids to such evil, there is no need to senselessly bum them out with your cruelty and horror.
Combichrist is a side project of Icon of Coil's lead singer Andy LaPlegua. Andy has done better work. Simply put: This Combichrist album is weak, especially when compared to his other side project, Panzer AG.
Squid @ may 2005