Cdatakill - Brazilian Nightmares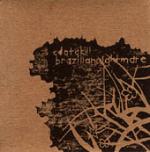 I've been listening to this CD for a couple of weeks, usually late at night, slowly being more pulled in by its sound. Strangely, it only sort of freaks me out and gives me the shivers when I think over the title of the CD, "Brazilian nightmares" while listening to it late at night. "Why is it called that?" I asked myself and then found myself with the willies. The more I search for the meaning, the creepier it gets.
Brazilian Nightmare is a strange CD, comprising of 9 original tracks and one 'remixed, cut and mutilated' track, originally the work of another band (Stick) but abused by Cdatakill.
This CD instantly won my affection with a little message inscribed in the liner notes: "Yes, I am aware there are no beats." I get tired of the constant struggle of some bands to become the next club hit, that desperate scramble for whatever small amount of fame and money they can get their hands on. Industrial is not the genre to be in, to make a lot of money, but some bands are making more than others, and getting a big club hit seems to the route many bands strive for.
Other Cdatakill (also named Cassandra Datakill) tracks that I've heard can be quite pounding, mixing harsh pounding noise with well crafted break beat, and weird dark soundscapes. On Brazilian Nightmares, however, the beats are dropped, but this does not mean that the entire CD is nothing but atmospheric soundscapes, instead, the layering incorporates the harsh drones and noise, angry growls, haunting sounds and a dark forbidding. They have done a great job at releasing a sub-noisy piece without the beats.
Squid @ May 2002