Brighter Death Now - Kamikaze Kabaret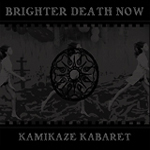 One of Cold Meat Industry's label flagship acts, Brighter Death Now, assault the listener with another brutal electronic powerhouse, Kamikaze Kabaret. As the title implies, Kamikaze Kabaret is not only overpoweringly intense, it also contains a twisted fucked up element, with an attitude that resembles a power electronic intrepretation of the 1950s. It acts almost as an auditorial amusement ride of ironically self destructive crushing muffled sound. This should probably not be listened to by the mentally unstable, but I listened to it anyway, and probably did my overall well being a bit more harm by doing so with headphones. Now I'm switching back and forth between loving it and being terrified of it.
I remember hearing the original version of Take Me Away on an old radio show hosted my Dr. Demento. The Brighter Death Now version that ends the album carries the original intention, but knocks up the insanity level quite a bit.
Squid @ April 2006