Acclimate - Miscreant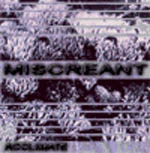 Acclimate's Miscreant is a remarkable find, and a disc that continues to grow on me with each listen. This dark experimental ambient noise piece is full of variations, waves and drones, beats and soft soundscapes, ambience and heavy distortion. It reminds me of something, and only after a few listens did I realize that it is similar to Wilt's 1940, but only in the way it seems to be crafted, for the sounds used on both discs and the reason for them are extremely different.
The tracks have been compiled over a four-year period, including some live edits, which have been re-mastered for this release. That it spans across a long period of time just adds to the CD, and the variety of the sound.
The title of the album, Miscreant, suggests an attack on the idea of faith, and its dangers, but this is not reserved for religious beliefs alone. For although there is some religious, and Christian imagery, there are also some track titles that suggest other belief systems, such as science, as well. And in that the style of music has variety, so does the meaning of the music. The quote on the linear notes, "be careful of who you idolize... they're sure to disappoint" although at first seems to be rather pessimistic, upon further reflection, is merely a sensible statement against the idea of idolatry, or putting too much faith into any one idea or person.
- Squid @ August 2003