Wumpscut - blondi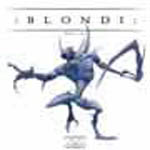 The first single of the upcoming Wumpscut album, Blondi offers very little. As a six-track single, it contains the original track, three mixes of Rush, and two remixes of Don't Go.
Rush, the main track of the CD, seems to be a midrange Wumpscut song; one meant for the dance floor, but by no means near to Wumpscut's best, while the remixes sound only like variations, rather than creative reworks.
Don't Go is spoiled for me by the horrible second remix. While the addition of female vocals may be a nice idea, and may appeal to some people, I hate it. But I'm not a huge fan of female vocals as of late, to be honest.
This is a single for Wumpscut fanatics and DJs. The rest of us should just wait for the album (and since my computer crashing has delayed me putting this review up, and the full album has now been released, just buying it).
Squid @ May 2005