ordo rosarius equilibrio / spiritual front - satyriasis, somewhere between nihilism and equilibrium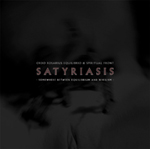 A collaboration between Sweden's Ordo Rosarius Equilibrio and Italy's Spiritual Front, Satyriasis, Somewhere Between Nihilism and Equilibrium is an absolutely brilliant album. Classified by the label, Cold Meat Industry, as "Apocalyptic Neo-Suicidal Pop Folk", the album offers a lot to a wide range of people, and the synergy of these definitions works wonders. It's one of those albums that is so pungent with cool, and so overpowering with its unique sound, that I can see people saying "normally I don't listen to anything like this... but", as they become convinced.
Personally, I love classifications like "Apocalyptic Neo-Suicidal Pop Folk", but I can see how people may think this is going a little overboard. But really, if this doesn't interest you enough to even check it out, then you're probably the type of person who needs some comparison making to attract you. Fine, I'll mention that it sounds vaguely reminiscent of Nick Cave's "Murder Ballads". Either way; listen.
What completely wins me over is the dark humour of the album. With the combination of Spiritual Front's nihilistic tendencies, and Ordo Rosarius Equilibrio's twisted sexual depravity, the forces for humour are perfectly aligned. Nihilism is often viewed as something quite serious and bleak, but often I think that people fail to see that it is within this bleakness that dark humour is allowed to flourish. The simplistic definition of Nihilism as a "belief that the destruction of existing political or social institutions is necessary for future improvement", can be complimented by the obvious fact that nothing destroys things better than sarcasm and humour, and that nothing highlights the absurdity of the system better than mockery. But let's not focus too much on this, for the humour is but an aside to the overall album, popping up at unexpected times here and there.
The album switches back and forth from Ordo Rosarius Equilibrio and Spiritual Front, and includes two tracks of collaboration.
Squid @ august 2005