rotersand - welcome to goodbye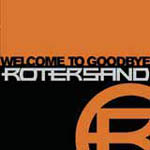 Its now at the point where if you're not on the Rotersand band wagon now you're going to regret it. Basically, Rotersand is one of those bands who you want to listen to now, so that in years to come, when everyone likes them, you can act all cool and say, "I liked their eariler stuff." With every second your coolness, or at least your image of your coolness decreases a bit.
Of course, with Welcome to Goodbye, their second album, if you don't know them yet, then you're already a little too late (but in a year you'll be able to fake it, so don't worry), because, their first album Truth is Fanatic was also really fucking good.
Welcome to Goodbye, their second album just confirms that they are and will be, the new "it" band of the EBM scene. Yeah, fuck, this album should convince those with that remaining bit of doubt that Rotersand is where it's at. They've got some club tracks (I kind of disliked Exterminate Annihilate Destroy (track 8) the first time I heard it because it was maybe trying too hard (but then was overwelmed by it (because yeah, even dispite the Daleks sample, its nevertheless manages to be pretty fucking cool)), but it doesn't end there, and they aren't about to be pigeon holed as merely a club band, their music spans the EBM genre, from ballads to dance pounding athems.
Basically put, Welcome to Goodbye is great, yeah, its pretty fucking awesome.
Squid @ July 2005