olen'k - silently noisy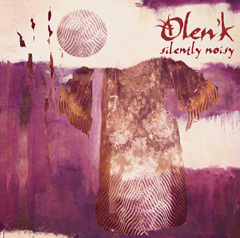 olen'k is an unusual release from Sweden's Cold Meat Industry, but it is also not a complete surprise; as while Cold Meat Industry is known for its harsh electronics and dark ambient, it is also a label with an ever-expanding ideology and range.
olen'k's silently noisy might be the most accessible release on the Cold Meat label; with a pop sound and gothy lyrics, I can see a broad range of people enjoying their sound and being won over.
olen'k soothes the listener with its trip-pop soft melodies, organic textures, female-led vocals, and mixture of electronics and atypical instruments. It is reminiscent of bands like Hungry Lucy and some of Claire Voyant, but I hate it when reviewers compare bands, so half ignore (ie read it but then forget that it was me who said it) that last part.
Squid @ May 2005