Navicon Toture Technologies - Dripping with the Power of Her Flesh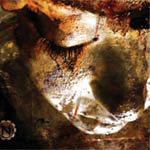 Navicon Torture Technologies's (NTT) Dripping with the Power of her Flesh is an eerily twisted dark work of tortured contradictions. Originally released by Annihilvs Records in a limited edition of 50 copies, it has now been re-released by Britain's Immanence Records in a full CD digipack format, which also includes a bonus track from the even more limited 3" bonus CD (that had been limited to a mere 10 copies), and a brilliant new remix by Detritus).
The music of NTT is extreme, with epic orchestral samples blending into distorted feedback, drones and textures, this is the essence of power electronics. Tortured, highly distorted and manipulated screams reveal the juxtaposition of this release, which drips of warped romantic undertones, misplaced concepts and socially abhorrent fascinations. The name of the album itself reveals the disturbing possibilities, implied power and victimization.
The highlight of the disc is the Detritus remix, which combines the NTT sound with beats, a unique mix of Detritus's breakbeats and NTT's overall sound. I think the brilliance comes into play by the track sounding somehow inappropriately matched and yet perfectly matched.
While playing it at work, a customer asked me if it was either Ministry or Skinny Puppy (must be thinking it is one of their more extreme experimental tracks). There could be argument to support that (perhaps more on the SP leaning). After looking over the CD case, his general comment was: "Cool." I agreed.
Squid @ May 2004