Mono Chrome - Collapse and Sever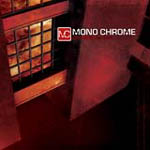 The best Claire Voyant album is Time Again, which mixes Victoria Lloyd's beautiful voice with the catchy EBM beats supplied by various remixers. The idea was obviously a good one and I think was probably the catalyst that spawned the creation of Mono Chrome, a collaboration of Lloyd and Clint Sand of Cut.Rate.Box.
Mono Chrome is light poppy fun music with a little gothic twist. That Lloyd can overcome my huge distain for female vocals is an achievement in itself. Instead of grinding pain and an overpowering desire to press the track advance button I can actually sit back and enjoy, listen. I can accept this joyful music (in small doses) from time to time. I can show a lighter side, a side that doesn't want to crush and destroy, a side that wants to see fresh young girls dancing to music like this.
Squid @ Sept 2004