Lights of Euphoria - Querschnitt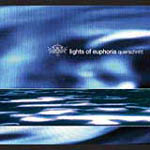 I was never really a fan of Lights of Euphoria, but was willing to give this "best of" release a chance to win me over. At face value, this album has a good chance of pleasing both fans and those who are unfamiliar with their work. Querschnitt is comprised of ten of Lights of Euphoria's best tracks and eight new exclusive remixes.
However, Lights of Euphoria simply come across as yet another European EBM band. Nothing within their catalogue seems to mark them as particularly exceptional. The album falls short of impressing me, but may be suitable for those people who need some more EBM to fill their void of an existence. It's well produced and nothing sounds all that bad, so we can call it a satisfactory release for non-demanding ears and leave it at that.
Squid Sept 2004