girls under glass - zyklus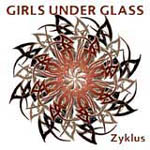 It has been a long time since I have heard Girls Under Glass. Its good that they are still around and have separated themselves from Van Richter Records (people who know will know what I mean, and people who don't need not bother finding out, its not worth the time) and have signed to Metropolis Records here in North America.
With Zyklus, Girls Under Glass can introduce themselves to a wide range of people, and with a sound that combines European Rock with electronics, they will appeal to fans of Project Pitchfork. Their strengths lie in their variety: as having been around for a while, they haven't allowed themselves to be pigeonholed. Their lyrics are a combination of German and English, their sound ranges from light to hard, and their music doesn't get caught up with current trends in an attempt to sell more.
Squid @ may 2005