Fixmer/McCarthy - Between the Devil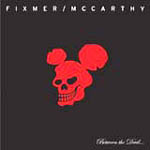 "Between the Devil" is the debut album of Fixmer/McCarthy, and is the new vehicle for Douglas McCarthy, ex-front man for the legendary band Nitzer Ebb. I was never really a Nitzer Ebb fan and to be honest, I don't think I'll be much of a Fixmer/McCarthy fan either (although I would definitely go see them live). Fixmer/McCarthy updates the Nitzer Ebb sound but the approach is very similar: On one side you have the music, dominated by fairly simplistic electronic beats, and on the other the vocals, driven by McCarthy's chant stylings.
The Nitzer Ebb comparison will dominate reviews of this release, but at the same time, will also lead to increased sales, sales perhaps beyond what it would get without the comparison.
Now I don't wish this to read as a negative review. Overall it is acceptable. As with Nitzer Ebb, the music does suit McCarthy's singing style, and I'd rather listen to this than Nitzer Ebb, that's for sure. However, it does seem a little more fitting to listen to in its natural club environment rather than sitting at home.
Squid @ November 2004