Diary of Dreams - menschfeind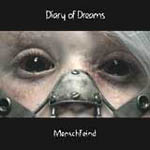 Quick on the heels of Nigedo, Diary of Dreams' last release, comes a mini-album (or perhaps a super EP) of brand new material. Menschfeind continues to impress me, as a secret joy of mine (maybe not so secret now) is their use of dark, over dramatic vocals in two languages. Mix this with Goth-inspired Industrial and the result is powerful enough to win me over to their sound.
After being caught in their sound again and again, I realized that perhaps why this music is a draw for me is that Diary of Dreams doesn't lament about lost loves or whine about that girl that just doesn't understand them. Instead, they present dark gothic EBM about dark and gothic subjects, and I'm a sucker for that.
Squid @ May 2005