Desiderii Marginis - Seven Sorrows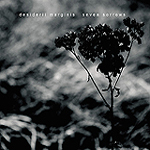 Desiderii Margins' latest release "Seven Sorrows" is a odd one. It's half dark depressing ambient, half strangely chosen inspirational self-help seminar. With this their 'happiest' release, yes, the classic Desiderii Marigis sound encounters somewhere along the line sporadic aspects of positivity. The music itself, within its layers of depressing undertones, nevertheless has elements of the upbeat.
And then comes the vocals, with chosen samples from unusually different sources. Yes, it's true, it' is interesting to see such unique derivation for the samples, and not from the coolest that Hollywood has to offer. For example, Florence Scovel-Shinn's inspirational book 'The Game of Life and How to Play It' is taken as source material for track 2, "Why are you Fearful?" By "inspirational" I mean as a topic, as a subject, and possibly as a section in the bookstore / library where you would find it, not a personal comment on it. Track 4, "The Bitter Potion" uses philosophical / religious work 'The Prophet' by Kahlil Gibran as its source.
This collection of material throws one off when listening to the CD, for a typical release it is not. But it did leave me wondering where the 'seven sorrows' mentioned in the title of the CD were; I searched and I came up with some theories and now have come to a conclusion, a conclusion I will not share, since it is probably so far off base that I wouldn't want to spoil believing it by revealing it for scrutiny. What matters is that it intrigued me enough to think up some sort of theory in the first place.
Squid @ July 2007