beyond sensory experience - pursuit of pleasure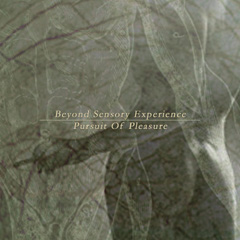 Beyond Sensory Experience is a concept band that uses ambient sounds and ghostlike voices to convey not only music, but a scientific exploration as well. They have an "accentuated focus on life in general and Advanced Human Sexuality (AHS) in particular." My initial thought, of course, was that this means little to me, and a google search didn't really help me figure anything out either. It seemed to me that I could only hear the music. But later, in listening and looking over the linear notes, some other thoughts come to mind: thoughts that if not serving to explain things, allowed me to enjoy the music just that little bit more.
The key, to me, seems to be the booklet that goes with the CD: pages of superimposed pictures opposite each track title. Beyond Sensory Experience releases an interesting piece of soft, dreamlike ambience; music that seems to contain a collage of sounds that combined, create the overall mood. Even then, however, the full picture of what is trying to be conveyed is a little blurry and the overall meaning is confusing, as the visuals within the booklet offer a combined and somewhat contradicting image. Much like how dreams often only make sense in a highly confused way, and how the sense one makes of these dreams is entirely subjective, so are the sounds of this CD; offering meaning on a highly individualized level.
Squid @ May 2005