battery cage - world wide wasteland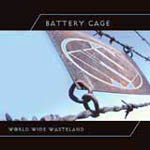 Battery Cage's World Wide Wasteland is is perhaps my all time favourite American EBM album (my current, for sure). I've been meaning to do a review of it for some time, but was unable to write one that could give the CD full justice, but after waiting this long, and having it appear do nothing but increase, I can now feel somewhat confident that I'm not just caught up in a momentary excitement caused by its heavy pounding energy. And although this review isn't going to do it justice, I feel I should not wait any more. World Wide Wasteland is perhaps a perfect example of American EBM at its best. The beats are all there, but there is that additional rock feel and energy that is unavailable from European artists.
Everything on this album works so well together. The content, the controlled anger and political/social messages and the music, with their mixture of electronics and guitars, are (to use a word I've used too much in this review) perfect.
My only complaint is that the linear notes are lacking. I'd like to see all the lyrics printed out.
But let's not end on a sour note. World Wide Wasteland deserves better. Why don't I just sum it up in five words: This CD is fucking awesome.
Squid @ July 2005