Wumpscut - Preferential legacy and music for a german tribe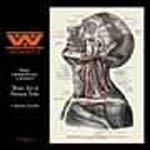 With the new Wumpscut disc on its way, I anticipated the event by going back and getting caught in the sound that was old Wumpscut. I've found myself going back and forth with Wumpscut, loving and hating and then loving again. His sound has changed and evolved (or what's the word for "evolved by selling out"?) over time. With some people, namely those who dislike Wumpscut for the club hits and later releases, the name brings nothing but disdain, not too mention ignoring the facts that Wumpscut was once Ant-Zen, and more specifically, that he was not always so EBM.
Preferential Legacy & Music for a German Tribe has re-snagged my attention as of late.
As a double CD of rarities, old tracks, remixes, and new tracks, it is the second disc; the non-remix, non-new track disc that blows me away. This sort of thing is the reason that Wumpscut is so popular; this sound is what catapulted his career, and established him as a major player in the new Industrial sounds of the 90s. This disc should be listened to by fans of Wumpscut and by doubters alike, as it will surprise, and possibly enlighten both.
The first disc, however, has attracted less of my attention, and the painful new track (a Wumpscut version of All Tried Out), is arguably a song that does not need to be covered, or possibly played ever again. The uneventful remixes and German versions of the old popular tracks are not complete wastes, but they are of less value than the second disc-- the whole point of the release.
Squid @ May 2005