v/a - Resurrection 2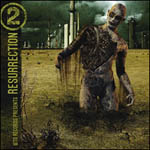 WTII records returns with their second compilation release to showcase the bands on their label. Samplers of these sorts often are full of album tracks and are meant only for people who want a quick introduction to the music, full of exclusive material so that it will be valuable for both beginners and fans of all the album, or a combination of the two. Resurrection 2 is a combo release, with 6 of the 11 tracks being exclusive or exclusive mixes. This suits me fine, as I don't own all the WTII releases, especially the ones from the bands who I'm less than interested in.
WTII roster is pretty tight, with a range of material from the synthpop/EBM spectrum of the industrial scene, headed by Monstrum Sepsis (who I feel are the best band on the label), cut.rate.box, Beborn Beton, Stromkern and the Daniel Myer/xxx side project HMB (all of these but Beborn Beton provide exclusive tracks/mixes). WTII has basically managed to snag a few bands away from signing with Metropolis Records. Its a pretty good achievement for such a small label.
Overall a fairly good release from an up and coming label.
Squid @ Sept 2004
Track Listing

01 HMB - The Metro
02 cut.rate.box - Aperture (Slither Mix)
03 Stromkern - Night Riders (part III bOOl3 mix)
04 La Floa Maldita - Secrets and Dreams
05 State of the Union - Makina Mata
06 Trigger10d - You Complicate Things (look the other way)
07 Beborn Beton - Vorbei (FAP7 Remix)
08 Deceptio Mentis - Divina
09 Monstrum Sepsis - Pecking Order
10 PTI - Alysium (PTII Mix)
11 Regenerator - Blink