Negative Format - Moving Past the Boundaries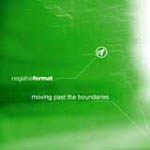 Moving Past The Boundaries is Negative Format's 5th CD release, and the first on Metropolis Records. It shows great maturity in sound design.
I've been a fan of Negative Format since his first release on Gashed Records, the much more electro sounding Result of a New Culture. His descent and near impact with the trance phenomenon did not discourage me, for even within the more upbeat dancefloor rhythms there was a certain distinctive draw. Now, with Moving Past the Boundaries, the sound reflects the title, and with a progression having been made, it easily traverses a path that intersects with a number of different sub-genres. The sound ranges from trance and techno beats, to more aggressive EBM, with a slight IDM touch. This cross genre synergy allows a greater appeal and a more complex sound, from epic-techno dancefloor stompers to sweeping, moody pieces. Although my own personal distaste of the current trend of female vocals makes me half cringe, I nevertheless see the addition of Rashree Matson as vocalist on a few tracks a nice addition to Negative Format, and they act as a nice counter-balance to the consistency of Alex Matheu's somewhat limited, but rather enjoyable vocals.
Overall, a very cool release.
Squid @ Oct 2005