Mürnau - Misanthropy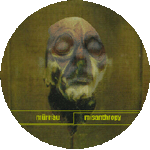 Misanthropy is an intensive 7" picture disc, comprised of two tracks, Null and Void. Two words that may seem synonymous at first, but there is a definite distinction between them in the mind of Mürnau.
Null is possibly one of Mürnau's most accessible tracks (used very loosely), focusing on a brutal interpretation of rhythmic noise, matched with repeated distorted vocals. The beat is a constant march of distorted and gritty sounds, matched by Murau's vocals, screaming of vengeful rage. The lyrics are basic, as much to the point as they are brutal: "your broken fingers are called justice. now inhale this fire it's my gift to you."
Void goes to the most extreme, with a barrage of wall of noise, static, and possibly screeching (but too extreme to be considered lyrics). The void expressed here is not one of sterility or of emptiness, but rather the opposite, with an emotional and physical overload of the void, and the pain and torment of this.
With Misanthropy, Mürnau unleashes a raw attack upon humankind, in an attempt to release the demons within not only himself, but the listener as well. Humanity gives us all plenty of reasons to hate it, and music like this can act as a catharsis, allowing us to channel that energy away from creating yet further reasons to hate.
Squid @ July 2003