Manufactura - Sobredosis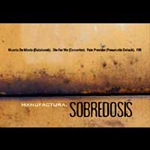 This limited edition companion to Precognitive Dissonance is awesome, featuring three remixes and one bonus track. Databomb, Converter and Pneumatic Detach all rework Manufactura's original tracks expertly, giving them their own distinct flavour.
Databomb's version of Mueto De Miedo is totally fucked up. Of course, I'm a huge fan of totally fucked up music, and so this twisted warping piece really appeals to me. Fucked up as it may be, you can still hear the original within.
Converter's Die for Me has the musical darkness of the new Converter sound, and is also remnant of Pain Station's (Converter's Scott Strugis' previous project) music on the album of Cold -- dark, oppressive and more than a little creepy. Converter has a great sense of building waves in his music, that pull you in with unsuspected power.
Pneumatic Detach has burst into the rhythmic noise scene, with two recent releases on Hive Records and a number of great remixes on various discs, including this one, which turns one of Manufactura's more EBM tracks into a harsher more rhythmic industrial sound, while dropping the vocals.
The disc finishes off with FIN which I assume is a bonus Manufactura track, which continues his theme of being unsettling, pushing on disturbing, that culminates in intense distortion and the agonizing screams of a woman.
The CD itself continues Hive Record's tradition of cool packaging, with it being a psydo-3" disc (a 3" disc set inside a standard size CD, allowing it to work on those front loading CD players) that comes in an anti-static bag. It sold out very quickly, and is well worth it.
Squid @ Feb 2004