Iszoloscope - Les Gorges des Limbes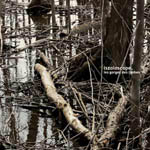 That Iszoloscope can easily switch from a powerful pounding rhythmic noise release like Au Seuil du Néant to this, a dark ambient release and no one thinks "what's with this new direction?" shows Iszoloscope's great depth. Each release has its own uniqueness and we're always so hungry for whatever he gives us that we don't care. Iszoloscope can be all dark ambient and we know that he hasn't lost his hardcore.
I should mention that Iszoloscope (or Zlop Zlop as I like to call him) has, over the 3 years I've personally known him, become a friend. So you may think that this, and other, highly praising reviews are based on that. But what? You think I'm scared of that bitch? As hardcore as he may be, we all know that I'm more so, and he knows it too. I can say whatever I like about him and he'll just take it. In fact, I almost wish he releases something shitty so I can smack it in his face, the way I've smacked other things (disdainful things) in his face (while he slept).
However, well have to wait a little bit, because Les Gorges des limbes is another fucking awesome release. Six long dark and gloomy tracks to sit in your basement listening to, while contemptating the evils of the world, the forboding darkness and the ever present weight of the void.
Les Gorges des limbes is actually an older work of Zlop Zlop's, that was originally written as a side project between 1999 and 2000, but never released until now. So even had we thought that he had lost all the desire for hard ass crushing beats, this fact alone would prove us wrong.
And now let me take the time in this totally unconventional review to put in a plug for Iszoloscope's latest track, which will appear on the soon to be released bugs crawling out of people compilation entitled revelation. Of course, I'm the mad man behind this label and this compilation, but the Iszoloscope track will kick your ass.
Squid @ Sept 2004