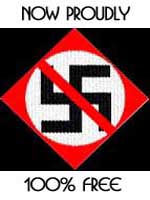 Please note: Although Fraudutek Industries sees all humans as being created equal, it also believes that they were all created equally poorly. Itís desires to create a perfect human is not racially motivated, and any claim of this sort is completely false, most likely made by those of inferiour breeding. Fraudutek Industries believes that only by working together, no matter what race, sex, age, sexual orientation, religious or philosophical belief, can we hope to eliminate race, sex, age, sexual orientation, religious and philosophical beliefs.
Fraudutek Industries is also pleased to announce that with the death of the last Ex-Nazi Scientist employed by Fraudutek Industries, we are now completely 100% Ex-Nazi free, and have no plans in the immediate future to hire any more Ex-Nazis (including Neo-Nazis).
In fact, truth be known, those Ex-Nazis were really a difficult bunch to work with. In addition to personal problems with their 'attitudes' and their inability to work in 'mixed' groups, the extra hassles of having to deal with hostile governments and Nazi Hunters were expenditures that could have been better used elsewhere.
Fraudutek Industries has now made it policy to never follow the lead of the United States Of America, especially when it comes to leniency towards war criminals.